20.08.2020
The XCES server has a storage capacity of more than 2 Petabyte and holds already over 15 million indexed data files in store. More than one hundred scientists can simultaneously browse and produce datasets, software plugins and results within the platform, both through web and shell.
On July 16, 2020, Dr. Etor Lucio Eceiza and Dr. Christopher Kadow as coordinators of the ClimXtreme (CoSoX) project, organized a first workshop with the aim of familiarizing project scientists with the infrastructure. It offered a general overview of XCES followed by hands-on exercises that covered a range of basic capabilities of this framework: data browsing, addition of own generated data, and subsequent analysis through some of the most basic plugins that can be found there.
The workshop was a resounding success as it hosted more than 40 participants accessing the XCES server at the same time. Due to the restrictions imposed by the COVID19 it had to be held online, which was a challenge by itself as at the same time parallel discussion rooms and auxiliary channels had to be organized in order to solve the technical doubts and issues that could arise during it.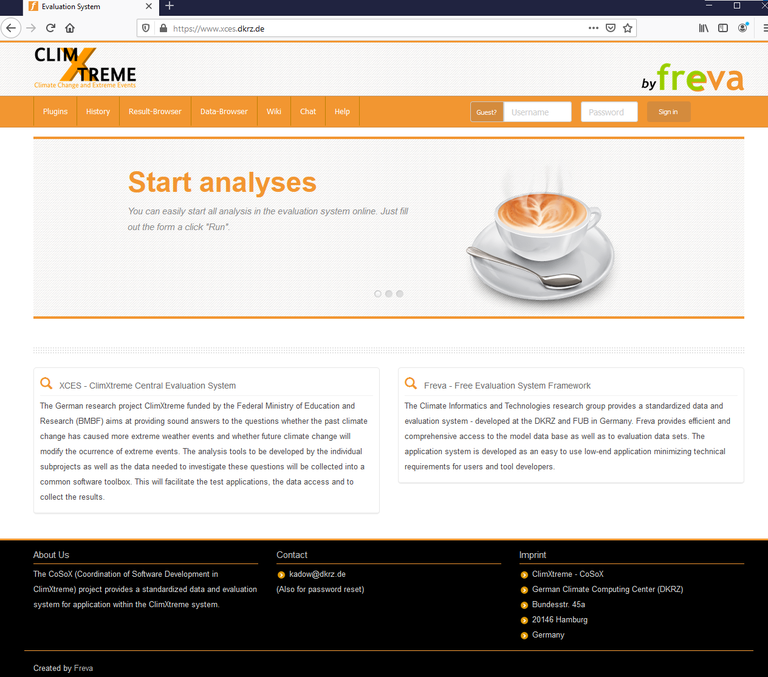 XCES website: A short tour can be taken by logging in as a guest.

The 'CoSoX' project within the 'Climate Informatics and Technologies' group at DKRZ is planning to organize another XCES workshop, centered on software development, in the upcoming months, and it hopes to attract as many participants as before.
Further information: