07.07.2017
Host and quantum chemist Professor Joachim Sauer, husband of chancellor Dr Angela Merkel, had wished to offer a scientific part to the partner programme during the G20 summit in Hamburg besides a harbour tour and a visit to Hamburg city hall.
At the Hotel Atlantic, Professor Claussen introduced the visitors to the history of climate science in Hamburg. Professor Bjorn Stevens, also a director at MPI-M, presented current climate research, and Professor Ludwig explained the special features of the high performance computing system and its enormous store capacities.
Instead of the originally planned guided tour through the computer center and to the data archives the state visitors experienced a virtual tour with filmsequences and photos through of the computing center.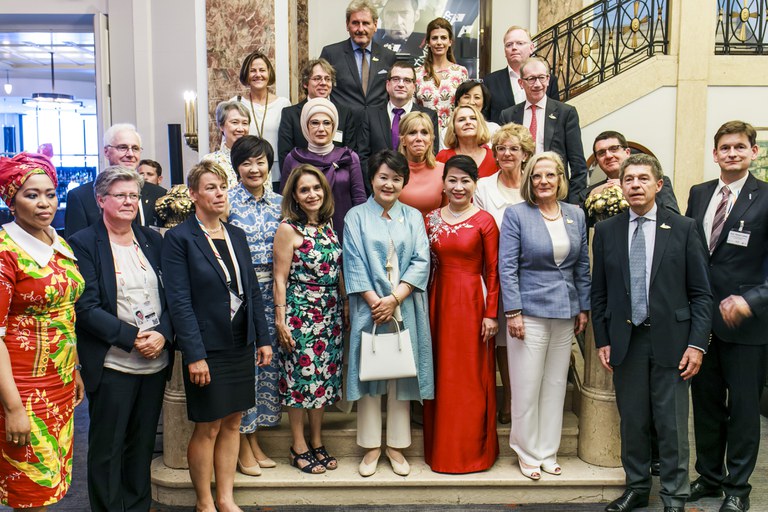 Group picture: Participants of the partner programme at the Hotel Atlantic. (© Bundespresseamt/Gottschalk)
Each row from left to right: 1. row at the bottom: Thobeka Madiba-Zuma (South Africa), Dr. Annette Kirk (MPI-M), Jana Meyer (DKRZ), Prof. Joachim Sauer (Germany), Prof. Thomas Ludwig (DKRZ); bottom stair: Prof. Martin Claußen (MPI-M), Akie Abe (Japane), Dr. Lulu Quintana (OECD), Kim Jungsook (South Korea), Tran Nguyet Thu (Vietnam), Lucy Turnbull (Australia); second step: Ho Ching (Singapore), Emine Erdogan (Turkey), Brigitte Macron (France), Malgorzata Tusk (European Council), Christiane Frising-Juncker (European Commission), Michael Böttinger (DKRZ); 4th row: Emanuela Mauro Gentiloni (Italy), Prof. Björn Stevens (MPI-M), Prof. Jochem Marotzke (MPI-M), Younsook Lim (World Bank), Philip May (Great Britain); top row: Xavier Giocanti (IWF), Juliana Awada (Argentinia), Sindre Finnes (Norway)
Kontakt
Prof. Thomas Ludwig
Director of the German Climate Computing Center (DKRZ)
Tel. 040 – 460094 -200
Email: bHVkd2lnQGRrcnouZGU=

Michael Böttinger
Head of Visualization and Public Relation
Tel. 040 – 460094 -344
Email: Ym9ldHRpbmdlckBka3J6LmRl
 
Press review about the event (in German):