20.06.2016
As one of the most important international events for HPC and as the greatest European HPC-exhibition, ISC brings together several HPC providers, universities and research institutes. DKRZ is one of almost 150 exhibitors at ISC'16.
Beside simulations on a climate globe DKRZ presents on the booth no. 550 its new high performance computing system for earth system science (Hochleistungsrechnersystem für Erdsystemforschung, HLRE-3), its data services for the project CMIP5 and – as the project coordinator – the new European excellence center for weather and climate research ESiWACE.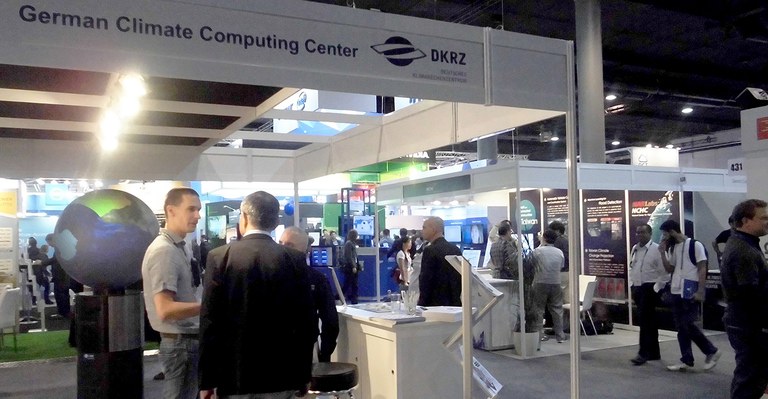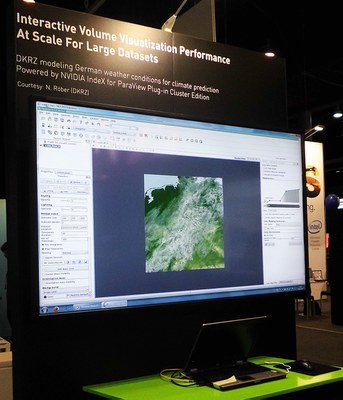 At the Nvidia Booth an interactive high performance volume visualization for large datasets is presented, based on results from a cloud resolving atmospheric simulation  for Germany which was carried out at DKRZ within the HD(CP)2 project. For the 3D data visualization a new Nvidia-Paraview Plug-in for Paraview is used.
Within the conference program, on the 21st June Prof. Thomas Ludwig was chair at the sessions "Climate & Weather" and was one of the organizer of the workshop "Energy-Aware High Performance Computing (EnA-HPC)" that took place on the 23rd June during ISC'16.
On 21st June, Dr. Julian Kunkel was chair at the Research Papers Session "Communication Runtime" and, on 22nd June, speaker at Birds-of-Feather (BoF) session "The I/O Community Hosting the High-Performance Storage List" and on 23rd June at "HPC I/O in the Data Center (HPC-IODC)". Furthermore on 22nd June he moderated the panel "Parallel File System – Quo Vadis?" and organized the session "HPC I/O in the Data Center (HPC-IODC)" on 23rd June. His poster about "Analyzing Data Properties Using Statistical Sampling Techniques – Illustrated on Scientific File Formats & Compression Features" won the award for the best contribution to the Research Poster Exhibition.
The working group "scientific computing" participated in the Student Cluster Competition. As one of twelve teams and among them the only one from Germany, the team achieved very good results: With their performance of 12.29 TeraFLOPS, they just barely missed the first rank within the competition of the best HPL-results. They also mastered the surprise application CloverLeaf and the implementation of an own graph500 very well.
Weblink to the complete list of TOP500: http://www.top500.org/list/2016/06/