13.07.2015
From 12th to 16th July 2015 Frankfurt hosts the this year's ISC'15 High Performance with 2,600 attendees.
DKRZ is one of 160 exhibitors of the ISC'15 exhibition that takes place parallel to the conference. On its booth no. 550 DKRZ presents its new high performance computing system for earth system science (Hochleistungsrechnersystem für Erdsystemforschung, HLRE-3). It consist of the new PetaFLOPS-system "Mistral" by Bull/Atos and a new hierarchical storage management system (HSM) based on HPSS by IBM.
DKRZ's climate globe - a virtual planet with a 360-degree view – is used to present climate simulations: ranging from scenarios of future temperature, precipitation or land-use changes, formation of clouds in the atmosphere, arctic sea ice cover up to simulated volcano eruptions and ocean currents.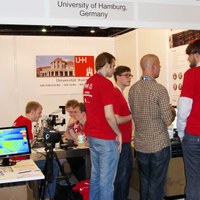 The working group "scientific computing" again will participate in the Student Cluster Competition, in which eleven teams, two of them from Germany, competes.
More information of Student Cluster Competition here
Contest of "Fan Favorite"-Award of the Student Cluster Competition:Vote for the DKRZ-team here

Follow our team on twitter: here
Impressions of DKRZ booth 550 at ISC'15: