10.06.2015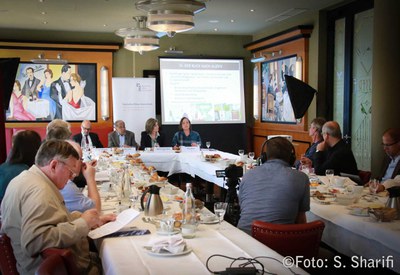 In the form of a "Climate Breakfast" in Berlin, the DKK chairman Prof. Dr. Mojib Latif, his co-chairman Prof. Dr. Gernot Klepper, DKK manager Marie-Luise Beck, as well as Dr. Silke Beck, a climate researcher in the field of environmental policy at the Helmholtz Centre for Environmental Research (UFZ) in Leipzig, presented the new position paper to press representatives. They further took position on these three main topics: Filling gaps in the understanding of the climate system, the handling of climate risks and the role of climate research within a democratic society.
During the last two years, DKK carried out workshops with scientists of leading German climate research institutes and experts from politics and society in order to identify and compile the long-term prospects of climate research. The workshop results were summarized in the position paper "Prospects for climate research 2015 to 2025". With this publication, DKK aims at contributing to the structural change in climate research, which is already on the horizon, and at stimulating reflection within the scientific community and beyond.
DKK – a federation of 23 leading German scientific organizations of climate research and climate impact research, among them DKRZ – is the central contact and advice point for the public and politicians on questions regarding the topics of climate and climate change.
Download of the position paper (in German only) as a pdf-file
Download of the abstract of the position paper (in German only) as a pdf-file)
Further information about the Deutsches Klimakonsortium (DKK): DKK-Website