09.06.2020
Fourteen student teams from all over the world compete against each other in a three-week online competition running June 1–24. The student teams will be tasked to configure, code, and benchmark a series of high-performance computing (HPC) and artificial intelligence (AI) applications. Joining the global fight against COVID-19, several applications being used by scientists and researchers for fighting the virus will additionally have to be tested by the students.
The team of the University of Hamburg has qualified again and is one of three German teams participating in the competition. The students are supervised by members of the group "Scientific Computing" and are supported by the Gauss Center for Supercomputing (GCS) both financially and in terms of content. Utilizing the supercomputing platforms kindly provided by the National Supercomputing Center Singapore, identical conditions will apply to all teams.
Vote for your Fan Favorite now!
A Fan Favorite Award will also be presented as part of the SCC. Vote here and support the Hamburg team!

The team shares live impressions of the competition on Twitter at @UHH_ISC_SCC, giving interesting insights into the Student Cluster Competition and the world of high-performance computing.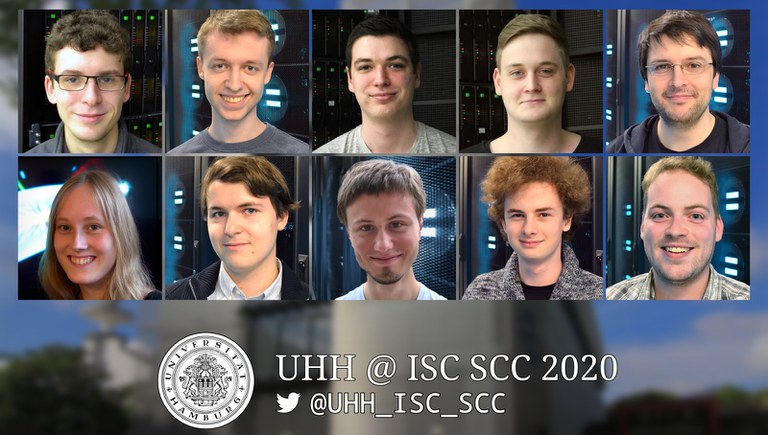 Team University of Hamburg. Top, left to right: Daniel Bremer, Felix Maurer, Johannes Coym, Julius Plehn, Michael Kuhn (advisor). Bottom, left ot right: Lina Meyer, Roland Fredenhagen, Ruben Felgenhauer, Yannik Könneker, Jannek Squar (advisor) © Hamburg University