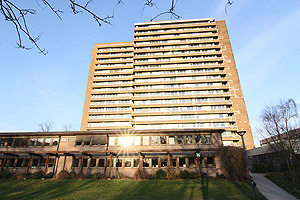 After its establishment in 1988, DKRZ was situated in the Geomatikum-building of the University of Hamburg in Bundesstrasse 55. The 18-floor building accommodates the geoscientific, mathematical and geographical institutes as well as parts of the Max Planck Institute for Meteorology. DKRZ's offices were first located on the 12th, later on the 17th floor; the computer hall was on the 15th floor.
Since 2000, rented apartments in the street "Beim Schlump", no. 58, served as offices for the M&D group, which was outsourced from DKRZ at that time.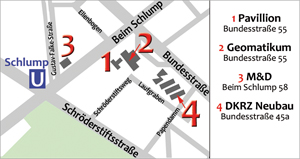 In 2004, DKRZ moved its staff offices into the so-called Pavilion behind the Geomatikum. The computer hall remained in the Geomatikum and was extended considerably, in order to offer enough space for the (at that time) new high-performance computer for earth systems research (NEC SX-6). The extension of the computer hall proved more economical than a new building for offices and computers.
For technical reasons (energy supply, cooling, statics) the next upgrade of the DKRZ computer system could no longer be accommodated on the upper floors of the Geomatikum. In Winter 2007-2008, the redevelopment and reconstruction of a former university building in the Bundestrasse 45a started. The new facility was funded with 26 million euro by the City of Hamburg. About a year later, in March 2009, the new DKRZ high performance computer, an IBM Power6 system, was installed in the new building and took up its services in April 2009. The staff of DKRZ and M&D group moved into their new offices in autumn 2009.