DKRZ - to provide high performance computing platforms, sophisticated and high
capacity data management, and superior service for premium climate science.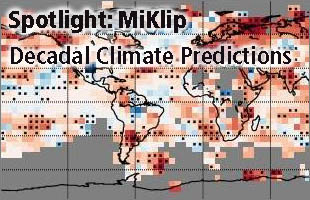 The spotlight presents scientific projects that are carried out with the help of DKRZ's resources.
Spotlight 10/2015: MiKlip - Decadal Climate Predictions

Within the BMBF-funded project MiKlip a model system is developed and evaluated with the aim to enable carrying out climate predictions on the decadal scale.

---
The German Climate Computing Center is a national facility and a major partner for climate research.
---
High Performance Computing: Climate simulations have a huge demand for computational capacity. The supercomputers at DKRZ are ranked among the largest systems employed for scientific computing.
---
Climate Simulations: With assistance from DKRZ, scientists conduct premium climate research and are able to simulate anthropogenic influences on the climate system.
---

Data Management: Climate simulations produce large quantities of data. Well designed techniques for data storage, archiving, publication, and dissemination are indispensable for top class climate research.
---

Document Actions